Style
My style of shooting tends to be a bit different from other photographers. Many photographers use a wide-angle perspective to give precedence to the environment or scenery. The person or subject is then generally small in the frame and the product may not be recognizable or even visible. Much of the ad imagery I see in the outdoor industry, for example, is so vague that without a logo or ad copy, the purpose of the ad is lost.
I take a different—and more technically difficult— approach and make the product the focus of the image or video by using long lenses and tight compositions. Then I mix in wide shots for scene-setting and context. You'll see that trend in my portfolio. There should be no doubt what the image is, and my style makes your product the obvious hero.
I really like using unique textures in my product setups. I have an ever-growing collection of backgrounds, textures, tiles, and wood surfaces that I use to create specific looks for a brand and elevate the look beyond plain white or solid colors. I also gravitate to lay-flat arrangements or product perspectives that create strong geometric views.
Nitty Gritty
I have a lengthy list of top-tier equipment, software, and tools in my arsenal. If you ever want to get in the weeds and talk shop, I'm your guy! I embrace the technical side of photography and cinematography, which is a perfect match for the high level of detail and skill needed to work with commercial product projects.
Multiple camera bodies for shooting stills and video. I shoot Canon, in case you're curious, but am happy to rent/operate any camera system for specific project requirements.
Photos are generally delivered at 8000px wide; easily large enough for full-page ads, tradeshow banners, and sharp website images.
I typically shoot and deliver video in 4K resolution, though 8K and 1080p are possible.
Cinema lenses, designed to provide special look that will give your video the captivating quality it deserves.
Professional grade Canon L-series photography lenses, the best of the best.
Studio strobes for photography. I use a set of six Paul C Buff studio strobes with a full complement of light modifiers (softboxes, scrims, diffusion). A separate set of smaller battery-powered strobes for outdoor use. All wirelessly controlled for efficient setup.
LED continuous lighting for video work. A set of bright Nanlite Forza LED lights with advanced modifiers like a projector and Fresnel attachments.
Gimbal for handheld video work that needs to have smooth motion while moving with camera on-location.
Motion control system from Axibo for creating complex camera movements in the studio. This piece is critical for stunning product video.
Turntable system that allows me to mount or hang a product up to 300 lbs. and rotate it 360-degrees with precision control.
Color calibrated professional-grade monitors for achieving perfect and reliable color for your brand.
Three different carbon fiber tripods for taking rock-solid photos and video.
Male and female "ghost" mannequins designed specifically for apparel photography where the mannequin body is edited out for the final image.
45+ backgrounds, textures, tiles, and wood surfaces that I use to create specific looks for a brand.
Two Synology NAS archival servers with almost 80 terabytes (yes, TB) of storage space, all backed up in the cloud, so that none of your assets are ever lost.
Professional-grade headphones and studio monitors to ensure that the sound effects, voiceover, and music in your videos sounds amazing.
Behind the scenes
This is a fun look at what some of my projects look like in-progress, both in the studio and outdoors on-location. Use the arrow slider in the middle of the first few images for a unique BEFORE/AFTER of the setup and the final image.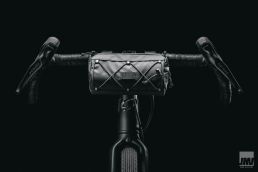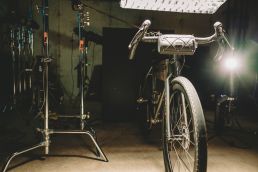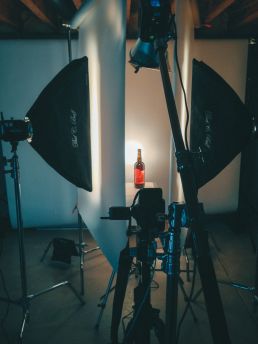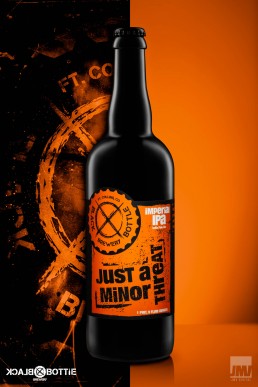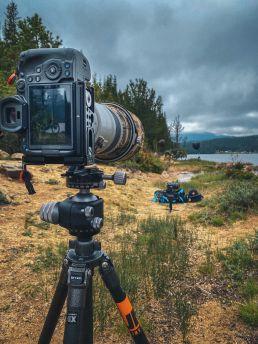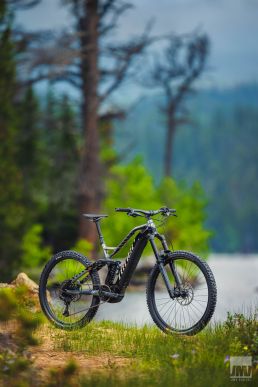 Your product deserves better.
Let's talk about how we can transform your products into scroll-stopping campaigns that captivate eyeballs and drive results.
Let's Chat